Gun battle in Paris suburb - how it unfolded
Comments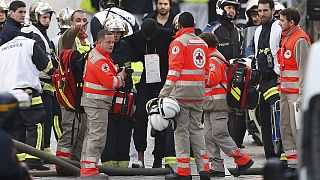 It was at around twenty past four this morning that the security forces descended on the Saint Denis suburb of northern Paris.
They surrounded an apartment where its reported up to five people had barricaded themselves in.
The intelligence services thought one of them could have been the mastermind of Friday's Paris attacks, Abdelhamid Abaaoud.
A intensive gun battle ensued.
At just after seven o'clock a source close to the events said one person inside the apartment was dead.
By now the area was flooded with soldiers, police, ambulance and fire services, and the authorities told all other people to stay indoors.
Most local transport services in Saint Denis were suspended and local schools were told not to open.
At half past seven strong explosions were heard and there was more intense gunfire.
At eight o'clock police announced that two of the suspects in the apartment were dead, one of them a woman who detonated an explosive device. One suspect remained inside and three policemen were injured.
At half past eight a police source said three suspects were in custody.
An alert at a nearby church proved to be a false alarm.
At ten o'clock members of President Hollande's cabinet begin arriving at the Elysée for a meeting as the security operation continued.
By the time the operation was over at half past eleven two suspects were dead and seven people had been arrested.