French Interior Minister Bernard Cazeneuve praises 'courageous' police
Comments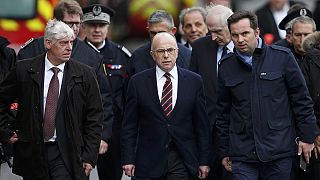 Arriving on the scene of Wednesday's police operation in the Parisian suburb of Saint-Denis some seven hours after it started, the French Interior Minister praised the work of the specialist police forces he described as "extremely courageous".
"Since four o'clock this morning, the police from the RAID (a specialist unit of the national police force) and the BRI (Search and Intervention Brigade) carried out an operation designed to put an end to the terrorists' capacity to do damage," Bernard Cazeneuve said. "Seven people have been arrested. Two people died including a woman killed by explosives. We will, in the course of the next few days within the framework of the inquiry, continue the action we are carrying out in the fight against terrorism. I will now hand over to the prosecutor."
François Molins linked the operation to Abdelhamid Abaaoud, the Belgian Islamist accused of masterminding the massacres in Paris.
"A lot of work was done that allowed us to obtain, through phone data, surveillance operations and witnesses, elements that could lead one to think Abaaoud was susceptible to be in an apartment in Saint-Denis that was part of the conspiracy," the prosecutor said. "It is impossible right now to give you the identity of the people arrested as that is in the process of being verified. Everything will be done to determine who is who, and in accordance with the analysis of the police forensic department, we will too you who was in the apartment and what conclusions we can draw from the unfolding investigations."
The prosecutor added he would give more information later in the day.