St Petersburg remembers victims of Metrojet flight 9268
Comments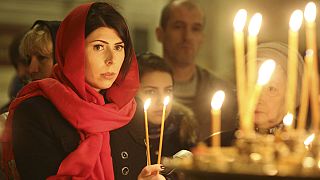 A memorial service has taken place at Saint Issac's Cathedral in the Russian city of St Petersburg for victims of last month's Metrojet plane crash.
Flight 9268 crashed on October 31 in the Sinai Peninsula. It had been flying from Sharm-el Sheikh to St Petersburg when it was downed killing all 224 people on board.
Russia's defence ministry said it sent two Ilyushin 76 cargo planes to bring back luggage of rescued passengers.
Russians flying out of Egypt are only allowed to carry hand luggage because of restrictions imposed after the plane crash.
Euronews correspondent Mohammed Shaikhibrahim reported from Sharm: "An airlift has been put in place at the airport in Sharm el-Sheik for the evacuation of foreign tourists and will continue for a few days. Besides that, people working in the tourism industry appear nervous, especially after the evacuation of Russian tourists which make up the bulk of those who travel to Egypt."