Russian tourists cancel Egypt holidays, fly to Turkey
Comments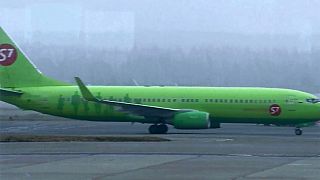 Russian airlines are sending empty planes to Egypt to rescue stranded travellers.
Russia's deputy prime minister said the number of Russian tourists in Egypt is around 80,000, according to the RIA news agency.
Some passengers said that they don't know what's going to happen to their luggage.
"They said that we shouldn't take any baggage with us on board, so we have to keep it somewhere, I don't know where, put our addresses and then they will somehow transport it to Russia to our homes, but how, who will do it, I don't know. I will say goodbye to my baggage," said tourist
Julia Suvrova.
"I feel safe, saod Alexander Nevzozov, "but some people talking about … there are some dangers, but I don't think so."
Russia's tourism agency said 1,200 tourists had returned home and future flights would be leaving Egypt without hold luggage.
Most people due to visit Egypt in the coming days had agreed to instead fly to Turkey.