'Noise' confirmed in last part of Metrojet's cockpit voice recording
Comments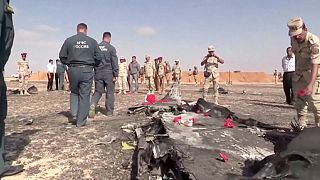 The head of an investigation committee into last weekend's Metrojet plane crash confirmed a "noise" was heard in the last second of the cockpit voice recording.
Ayman el-Muqadem said debris from the plane was scattered over a wide area, which is consistent with an in-flight break-up.
"A noise was heard in the last second of the CVR [cockpit voice recorder] recording. A spectral analysis will be carried out by specialized labs in order to identify the nature of this noise.
One unidentified reporter asked why other investigators responsible for listening to the black box were absent from the news conference.
Euronews correspondent Mohammed Shaikhibrahim reported: "The absence of the representatives of other international commissions caused confusion and raised many questions from people here. This keeps the door open to more speculation and controversy about what caused the Russian plane to crash."
Russian and Egyptian emergency workers laid flowers where the Russian Metrojet plane crashed one week ago in the Sinai Peninsula. It had been flying from Sharm-el Sheikh to St Petersburg when it was downed killing all 224 people on board.