Tourism industry fears huge losses from Egypt crash
Comments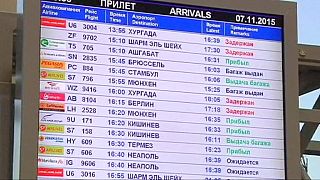 Moscow has pulled 11,000 Russian tourists from Egypt in the past 24 hours, RIA news agency reported on Sunday (November 8), citing Deputy Prime Minister Arkady Dvorkovich.
Some 80,000 Russians have been stranded in Egypt since the Kremlin grounded all flights to the country on Friday following the crash of a Russian airliner in the Sinai Peninsula.
The crisis risks dealing a huge blow to Egypt's tourism industry, but also to Russian tour operators.
"Egypt is the best selling destination now; it's still peak season in Egypt, and this is the closest, warmest and most affordable destination," said Irina Tiurina, spokeswoman for Russia's Travel Industry Union. "Eighty percent of Russians who go on holiday abroad choose beach resorts; they go to warm places. So naturally the situation is very difficult."
Russian and Egyptian authorities are carrying out an investigation into the fatal flight, which crashed on October 31 shortly after take-off from the Egyptian resort city of Sharm el-Sheikh, killing all 224 people on board. Its intended destination was Saint Petersburg.
Britain and the United States suspect the plane an explosive device caused the disaster. But Egypt has urged caution and dismissed as "propaganda" claims the militant group ISIL brought down the plane.
Three million Russians holidayed in Egypt last year, more than any other nation. British tourists came next, but they are now also being repatriated, spelling bad news for Sharm el-Sheikh.
Until the crash, Sharm el-Sheikh had been considered a rare pocket of safety in Egypt. Elsewhere in the country, the tourism industry has been hit hard by years of political upheaval since the 2011 Arab Spring, as well as several bomb attacks.