Hungary former president Goncz buried in Budapest
Comments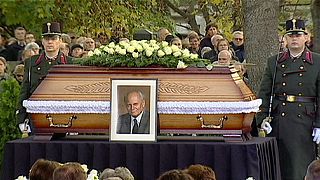 Former Hungarian President Arpad Goncz was buried in Budapest on Friday.
Hungary's first post-communist president, Goncz held the office for two consecutive terms between 1990 and 2000.
Imre Mecs, a former politician and friend of Goncz's said of him: "You became the best head of state of all times, someone loved by the people, who could also be rather strong-minded, when need be."
Goncz, who died at the age of 93, had been a journalist and translator as well as a politician.
He served time in prison in the late 1950s and 1960s for defying Communist rule.