Hebron incidents raise West Bank tension
Comments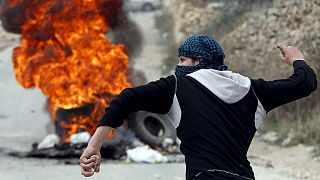 At least another two people have been killed and three wounded in the latest violence in Israel.
A 72-year-old woman died after being shot at a petrol station. Police officers say she was attempting to ram them during a spot-check.
One man died after being shot by Israeli soldiers on the border with Gaza after a protest turned violent.
But it was in Hebron where tensions ran the highest, especially once Friday prayers were over. Three Israelis were injured in separate West Bank incidents, two being shot near the Cave of the Patriarchs, the other stabbed outside the Beit El settlement.
A manhunt has been launched to find the authors of the attacks. A Palestinian radio station in Hebron has been shut down, and security against stone-throwers and crowds gathering has been stepped up. Social media is also being combed for posts promoting violence.