Romania: Thousands join protests calling for political reform
Comments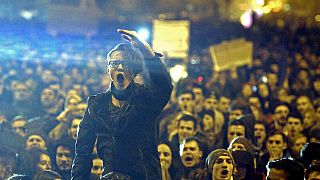 The surprise resignation of Romanian Prime Minister Victor Ponta over last week's deadly nightclub fire has done little to stem the anger of protesters in Bucharest.
For a second night thousands came out onto the streets but this time demanding early elections and an end to corruption.
"There is definitely a need for change and a need for this new generation to speak up its words and show its intelligence," said one young woman taking part in the rally.
Protests still going strong at this moment in diff cities in Romania pic.twitter.com/OxUv10WVLP

— Român Mândru (@MandruRoman) November 4, 2015
The deaths of 32 people in Friday night's fire which have been blamed on endemic corruption among officials, appear to have fuelled public anger against Romania's political elite.
"My expectations are not so big because this time, I'm realistic. You cannot change a political class over night. But it's a strong signal for the political class to change something in their habits and in their organisation," said a journalist who had taken part in Romania's 1989 revolution.
"Most of the people here, the urban young, the educated ones , the middle class people, they do have a deep mistrust of mainstream media especially TV stations. They are seen as part of the problem. They are media extensions of corrupt businesses and cannot be trusted, " was the opinion of another Romanian journalist.