Romanian president warns of 'much to do' in political clean up
Comments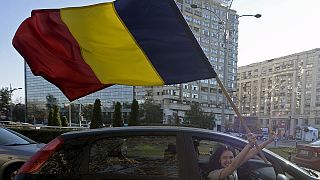 .
For Romanian President Klaus Iohannis who was elected on an anti-corruption ticket last November, the resignation of Prime Minister Victor Ponta has been too long in coming.
Last September Ponta became the first sitting Romanian prime minister to go on trial for corruption was already under pressure to quit from the opposition Liberals as well as the president who was their former leader.
Romania and you

You CAN change things! The people power message of Romania's peaceful uprising. http://www.euronews.com/2015/11/04/romanians-cold-revolt-against-corruption/

Posted by euronews on Wednesday, 4 November 2015
"The cabinet has resigned. Late. Very late. People had to lose their lives for this resignation to occur (…) "There is still a lot to do. We cannot believe that a simple change of government solves Romania's problems, not even the problems of the political class. There is much, much more needed," said President Klaus in a televised address.
The president is to start consulting political parties today to replace Ponta. But his Social Democratic Party (PSD) will likely remain in the existing coalition until parliamentary elections which are not due until December 2016.
Ponta's departure might lead to a political realignment, although the coalition of three mainly leftist parties that form a majority in parliament have shown no signs of splitting. In fact one of the junior ruling coalition parties, the UNPR, has already given its backing to the existing power-sharing government.
Early elections appear unlikely, but still possible. They can only be triggered if parliament rejects two prime ministerial nominations in confidence votes within 60 days of the first one. No such snap poll has been held since the 1989 fall of communism.