Romanians' cold revolt against corruption
Comments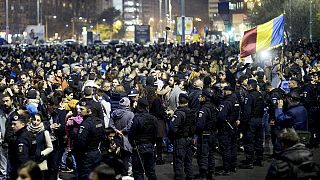 Romanians finally mobilised the critical mass to demand accountability for corruption. They attribute the Bucharest nightclub deaths to it. They expressed their anger on social media under the hashtag #CorruptionKills. It permeates Romanian politics, encompassing abuse of office, bribery and conflicts of interest. Laws are ignored, or unenforced.
Social media's effect is amplifying. What Euronews put on Facebook and Twitter about the prime minister's resignation was shared and multiplied thousands of times in just a few minutes.
Romania and you

You CAN change things! The people power message of Romania's peaceful uprising. http://www.euronews.com/2015/11/04/romanians-cold-revolt-against-corruption/

Posted by euronews on Wednesday, 4 November 2015
Victor Ponta took office, the youngest Romanian to do so, in 2012. Then just 40, he inspired hope that Romania could shed its record as one of the most endemically corrupt countries in the European Union. People were quickly disillusioned. Politicians from all parties continued to hold high office.
Ponta himself was found to have plagiarized his doctoral thesis. Till now he has ignored all calls to step down, after being indicted in September for forgery, money laundering and serving as an accessory to tax evasion during his time as a lawyer. He is expected to face his first court hearings later this month.
He said: "I believe a democracy is not solved in the street, by force. A democracy is functional by its mechanisms, as laid out in the constitution."
The country's only sitting premier to face a trial for corruption, Ponta was already under pressure to quit from the political opposition and President Klaus Iohannis, who defeated Ponta in last November's presidential election. Iohannis will consult political parties separately over a new premier. He said: "Last night, Romanians' outrage became true revolt. Iohannis told Romanians he read their message loud and clear. And yet he cautioned: "We can't believe that just a government change will solve Romania's problems. There is more to be done."
In 2014, the National Anticorruption Directorate, formed in 2002, secured the convictions of more than one thousand politicians, businessmen, judges and prosecutors, but with many suspended sentences. Romania had been told its 2007 membership in the EU might be delayed if it failed to make progress. For a few years Bucharest pressed on with reform.
Today, conduct, competence, judicial independence and integrity at all levels are found wanting by the public. The nightclub deaths are a watershed, which Romania's politicians could find dangerous to ignore.