US: Porsche and Audi drawn deeper into Volkswagen emissions-cheating scandal
Comments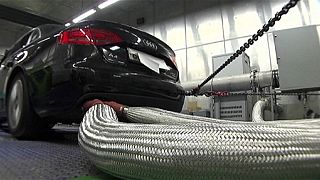 The United States has expanded its investigation into Volkswagen, with claims the German carmaker has also installed emissions-control cheating devices in the latest diesel models of its luxury brands Audi and Porsche.
Environmental regulators say their new investigation centres on more powerful 3 litre engines used mostly in the larger, more expensive vehicles. It says those from the years 2014 to 2016 are affected.
Among the diesel models officials named as being in violation of US laws are the Porsche Cayenne sport utility vehicle and five Audi models, including the A6 sedan and the Q5 SUV.
EPA: #Porsche now also included in #Volkswagen defeat device scandal https://t.co/qUYtRARy94pic.twitter.com/BJxkMhqJjf

— Newsweek (@Newsweek) 2 Novembre 2015
That would mean more trouble for Volkswagen which admitted in September that it had installed software, known as defeat devices, in 11 million cars around the world that can evade emissions tests.
The devices allowed the vehicles to pass tests meant to monitor vehicles' emissions of nitrogen oxide – a smog-causing pollutant.
The latest probe by the US Environmental Protection Agency concerns at least 10,000 vehicles sold in the United States.