Romania: Nightclub owners quizzed in manslaughter probe after deadly fire
Comments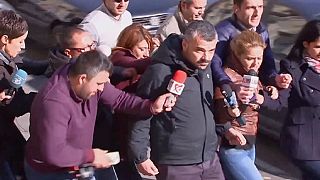 The three owners of the Bucharest nightclub engulfed by fire during a rock concert were questioned on Monday on suspicion of manslaughter, as the death toll in one of Romania's worst disasters in decades rose to 31.
"Costin Mincu, Alin George Anastasescu and Paul Gancea, the club's shareholders, were brought in on November 2 for hearings as suspects of crimes of manslaughter and injury," prosecutors said in a statement.
The three all declined comment as they arrived at the prosecutor's office for the closed-door hearings.
Friday night's tragedy has shaken up Romanians, who are distrustful of building safety and the way local authorities issue permits and licenses.
The government says the club in question failed to ask for the permission it needed.
"It is not normal and normally this club should not have existed," said Emergency Situations official Raed Arafat.
"What we are trying to explain to the public opinion in Romania is that this club never requested an authorisation and never declared what they wanted to do there."
Witnesses say fireworks set off inside the Colectiv nightclub caused the blaze which triggered a stampede.
Hundreds of people gathered outside the Colectiv on Monday to light candles and bring flowers in remembrance of the victims, after thousands marched in silence on Sunday.
Romanians have also rallied on social media under the slogan "Corruption kills", blaming authorities for a failure to properly inspect nightclubs and other spaces that require permits.
Blood donation centres nationwide were overrun with people, while volunteers were taking food and water to Bucharest hospitals for medical staff and families of those injured.
On Monday, an unidentified man died of his injuries, bringing the death toll to 31, deputy prime minister Gabriel Oprea was quoted as saying by local news agency Mediafax.
Doctors have told reporters that just under 140 people remain in hospital, more than half of them in a critical condition.
The public has been warned that the death toll could rise.
Romanian doctors warn the death toll in nightclub fire could rise "significantly" https://t.co/O5Ohw5dJDU

— TIME.com (@TIME) 1 Novembre 2015