Germany restricts refugee entry from Austria to five crossings
Comments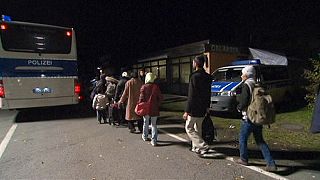 Germany has announced it is to restrict the number of entry points for refugees and migrants arriving from Austria.
A total of five crossings will be used along the 800km border in an attempt to better organise those entering the country.
Bavarian authorities had been critical of Vienna for failing to coordinate with them.
Chancellor Angela Merkel has favoured an open-door policy for those arriving in Germany, claiming Germany can cope, however the President of Bavaria has been critical of her asylum policy.
Meanwhile, towns and villages across the country have been welcoming refugees with open arms.
Far from the German border with Austria, the 100 inhabitants of the tiny village of Sumte, near Hamburg, have been getting ready to become the new home for around 750 new residents.
An estimated 800,000 to 1 million refugees and migrants are expected to arrive in Germany this year.