Anxious relatives await news of loved ones at St Petersburg Airport
Comments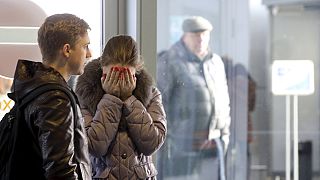 Anxious relatives gathered at Pulkovo International Airport in St Petersburg desperate for news of loved ones on board the crashed aircraft.
Relatives arrive at St Petersburg airport to await news of Russian plane crash #Sinaihttps://t.co/dkN0NhFQmIpic.twitter.com/TPLN2nc6Qs

— Daily Mail Online (@MailOnline) October 31, 2015
Many were already at the airport to meet the passengers and as news filtered through that the Kogalymavia Airbus A-321 from Sharm el-Sheikh had crashed many more arrived.

Putin declares national day of mourning on 1 November after Russian plane crash https://t.co/24GD9krhJIpic.twitter.com/c2KpsTjrDJ

— ITV News (@itvnews) October 31, 2015
Russia's emergency services are mobilising to assist the bereaved.
Vladimir Stepanov is from the ministry of emergency services in Moscow:"I have requested the emergency services around St Petersburg to provide doctors and psycologists to assist the families at the airport and to report back to Moscow every three hours."
Russia's Investigative Committee, has opened an investigation into the plane crash for possible violations of flight safety procedures.
President Vladimir Putin has announced a national day of mourning for Sunday.