More than 70 children have died on route to Greece since Aylan Kurdi death - report
Comments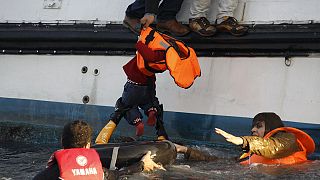 At least 19 migrants and refugees have drowned near the Greek island of Kalymnos, and three people have died off the coast of Rhodes, according to the Greek coastguard on Friday morning.
The deaths came two days after some 16 people died off the coast of Lesbos when their wooden boat fell apart in rough waters.
The number of fatalities has been rising, with bad weather creating further dangers for those making the already-perilous sea crossing from Turkey to Greece.
The Save the Children charity reported on Thursday that 70 children have died attempting to reach Greece since the death of five-year old Syrian boy Aylan Kurdi in September.
"To have the small bodies of babies and children carried ashore or washed up on these idyllic beaches is devastating," said Kate O'Sullivan of Save the Children in a statement.
"Though the crossing from Turkey to Greece is short, the waters are increasingly dangerous and sadly we're going to see more of these needless deaths," O'Sullivan also said.