Refugee crisis: Greece and Germany stand firm on action plan
Comments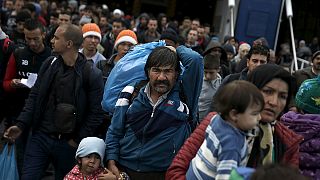 Panic, anger and desperation have all become common place along Europe's many borders in recent months as thousands of refugees travel across the continent in search of a better life. At one crossing between Slovenia and Austria on Thursday evening it was no different.
Scuffles broke out and the fence put in place to halt the passage of people was no deterrent.
Just days ago, EU leaders agreed to boost cooperation and provide UN-aided housing for 100,000 people, but in the meantime the crisis shows no sign of letting up.
Speaking in Athens, Germany's foreign minister, Frank-Walter Steinmeier, said European countries needed to form a common border protection agency and to negotiate with Turkey.
Greece has seen half a million people arrive in the country since January.
"It would be good to stop the migrant flows before they reach the EU," said the Greek foreign minister, Nikos Kotzias. "We shouldn't allow them cross over from Turkey or organise joint patrols. We need them to not arrive here."
Meanwhile, around 150 refugees and migrants arrived on the Greek island of Lesbos after being rescued at sea.
At least 30 people were missing after their boat sank trying to Greece.
On the other side of the Mediterranean, off the coast of Morocco, at least four African migrants drowned and another at least 35 were missing.
Spanish coast guards brought 15 people to the southern city of Malaga after they were plucked from the water after their boat sank.