Logo unveiled for 2019 Rugby World Cup
Comments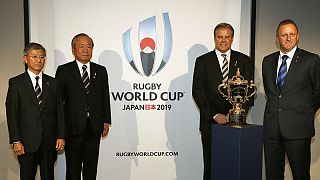 Before this year's Rugby World Cup final has even been played, focus has turned to the next edition in Japan where the logo for the 2019 tournament was unveiled on Wednesday.
It is said to emphasise unity and comprises the rising Sun with Mount Fuji.
Japan will host the ninth edition of the event and will become the very first country to stage it outside of the sports traditional powerhouse nations.
The tournament will begin on Friday September 20 and end on Saturday November 2.
Rugby World Cup head Alan Gilpin said: "There's 12 fantastic venues there, 12 very passionate host cities and prefectures and I think now as we draw this event to a close and we review everything that was good about rugby world cup 2015.
''We'll have an opportunity, obviously with our partners in Japan, to really work through the draw, the match schedule and the hosting arrangements for 2019. So I think it will be, you know, well into next year before we are able to confirm the next steps in that regard, but it's obviously a very important piece of work for us."