Japan seeing knock-on effect from 2015 World Cup heroics
Comments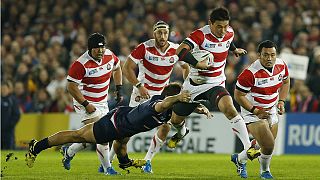 Although the 2015 Rugby World Cup has yet to be decided, for some the focus has already turned to the next edition.
Following Japan's stunning last gasp victory against two-time champions South Africa in the pair's opening pool match last month, passion for rugby has been renewed in the Land of the Rising Sun which will host the 2019 tournament.
This renewed enthusiasm was on display at an introductory event at a Tokyo Rugby School where five times the amount of kids took part than the year before.
One Japanese rugby fan at the school said: "People were moved watching Japan score that late try against South Africa. I believe the nation's view toward rugby has changed because of that."
Japan thrilled rugby fans across the world with their efforts in England despite becoming the first to win three out of four pool games and still fail to qualify for the knock-out stages.
Many are now hoping the heroics of 'The Brave Blossoms' this year will have a positive knock-on effect.
The early signs are promising and in four years time Japan will make further strides in the game becoming the first country to host the World Cup outside the traditional powerhouse nations.