In the red corner: Former boxing star Jones Jr picks collects Russian passport
Comments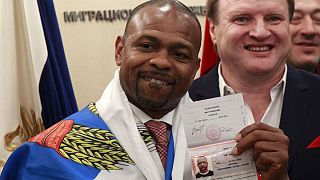 Former WBA Heavyweight champion Roy Jones Jr picked up his Russian passport on Tuesday over a month after being granted citizenship by President Vladimir Putin.
Jones Jr is widely considered to be one of the finest boxers of all time and is the only man in history to start his career as a light middleweight and go on to win a heavyweight title.
After changing the boxing landscape over his career American/Russian Jones Jr believes he is now being used to change the political landscape too.
After picking up his passport Jones Jr said: "I am Russian, I feel very blessed, very gifted. The world is changing and I feel like God is using me as an instrument to have change the world."
He asked for Russian citizenship during a meeting with Putin in Crimea in August, then saying it would make doing business in Russia much easier.
The still active 46-year-old pugilist, who was named "Fighter of the Decade" for the 1990's said he would move to Russia with his family and compete in the name of his adoptive country.
He won 62 of his 70 bouts – 45 by knockout for only eight losses.
His last fight was in August when he registered a sixth-round knockout against American Eric Watkins.