Afghanistan shaken by major earthquake
Comments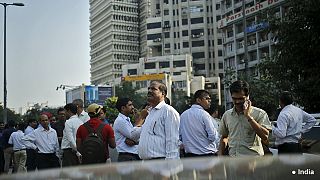 A major earthquake struck northeastern Afghanistan on Monday, shaking the capital Kabul and sending shockwaves that were felt in north India and Pakistan, where officials said at least 11 people had been killed.
The quake was 196 km (120 miles) deep and centred 82 km (51 miles) southeast of Feyzabad in a remote area of Afghanistan in the Hindu Kush mountain range.
The quake's intensity initially measured 7.7 but was then revised it down to 7.6 and later to 7.5.
Buildings shook violently in Kabul and tremors were felt across northwestern Pakistan and its central Punjab province.
Buildings shook for well over a minute in the Indian capital, New Delhi, sending office workers scurrying onto the streets.
The earthquake struck almost exactly six months after Nepal suffered its worst quake on record, on April 24. Including the toll from a major aftershock in May, 9,000 people lost their lives and damaging or destroying 900,000 homes.
The mountainous region is a seismically active region, with earthquakes the result of the Indian subcontinent driving into and under the Eurasian landmass. Such tectonic shifts can cause enormous and destructive releases of energy.
A 7.6 magnitude earthquake struck northern Pakistan just over a decade ago, on Oct. 8, 2005, killing about 75,000 people.