What went wrong? France probes horror bus crash that left dozens dead
Comments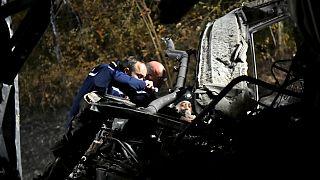 A long and difficult investigation lies ahead after France's deadliest road crash in more than 30 years.
At least 43 people were killed and four seriously hurt on Friday morning in a head-on collision between a truck and a bus carrying elderly day-trippers.
Both vehicles burst into flames after the crash near a forested bend on a two-lane road cut into a hillside near Puisseguin, some 60 km east of Bordeaux.
TV footage showed two blackened vehicles, with the bus facing the wood-transporter's trailer, the truck's cab skewed to one side, and scorched vegetation around the site, which was sealed off by police.
While early reports suggest the lorry may have jackknifed and left its side of the road, caution is being observed.
"Only by investigating the traffic conditions and markings left by both the bus and the HGV will we be able to find out more about the vehicles' speed and the way in which the accident unfolded," said investigating prosecutor Christophe Auger.
The bend was well signed and no accidents had occurred there for five years, according to authorities in the rural Gironde region of France.
But while the speed limit was 90 kilometres per hour, former bus driver Daniel Lys said:
"To take that bend, 40 kilometres per hour is the most you can do. It is narrow and really very sharp. There is an embankment on the side. You can't see a thing."
Whatever caused the tragedy, it has devastated the families and friends of those who perished, hailing from small village communities where almost everyone knows a victim or loved one.
The bus was carrying about 50 pensioners south to the Bearn region from their homes in the village of Petit Palais and surrounding hamlets. The crash occurred just a few minutes after the pensioners had boarded the vehicle.
The bus driver survived – praised as a hero for helping those who could escape the flames.
The lorry driver died alongside his passenger – his three year old son.
It was the worst road accident in France since 53 people, mostly children, died in a bus crash in Burgundy in July 1982, according to the independent road safety organisation Association Prevention Routiere.
France has a tragic history with coach crashes in recent years. Here is a closer look: https://t.co/x7ysG5PyxPpic.twitter.com/M6npfyMD8e

— The Local France (@TheLocalFrance) 23 Octobre 2015
Stricter road regulation and lower speed limits followed, and traffic deaths in France have fallen steeply since.
According to official statistics, more than 16,000 people were dying on the roads every year in the early 1970s. In recent years the annual death toll has dropped below 4,000.