France bus crash: 'some of the victims were burned alive'
Comments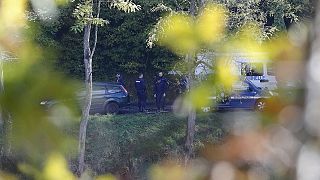 France is mourning the victims of the country's worst road disaster in 33 years.
At least 41 people on a bus carrying elderly day-trippers were killed early on Friday, when the bus hit a truck head on and caught fire, near Bordeaux.
Two people, including a young boy, died in the truck. A total of eight people were injured.
Euronews spoke to Julien Hababou, special correspondent with French TV channel M6, who was at the scene.
Fabien Farge, euronews: "Tell us, has happened this morning in Puisseguin?"
Julien Hababou: "It happened around 7.30 this morning, the weather was pretty good, but was still dark.
"The road is winding, it's a minor road in southwestern France. All of a sudden, for some reason, the bus – carrying 50 retired people – collided with a truck.
"The truck was in the middle of the road. There was a collision and immediately the two vehicles caught fire. Some of the victims were burned alive."
euronews: "Are the most senior French investigators already at the scene?"
Julien Hababou: "Prime Minister Manuel Valls has just visited the scene, with Bernard Cazeneuve, the Interior Minister, and Alain Vidalies, the Secretary of State for Transport.
"French President Francois Hollande has also paid tribute to the victims, during his state visit to Greece.
"The aim is to show the support of the French nation for the victims and for those people working at the scene.
"The French 'Orsec' plan was put into action – to organise relief and assistance to families of the victims, who you can imagine are in enormous shock.
"An investigation has opened into what caused this crash, how these two vehicles could catch fire and cause so many deaths."