Russian strikes in Syria spark more suffering, says Germany's Steinmeier
Comments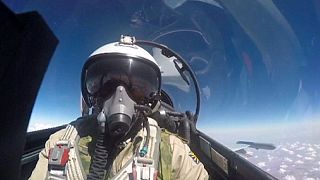 Germany's foreign minister has slammed Russian air strikes in Syria, claiming they have created more suffering.
Frank-Walter Steinmeier says he hopes political and military issues were on the table during a surprise meeting between Bashar al-Assad and Vladimir Putin earlier this week.
He spoke after meeting his Finnish counterpart in Berlin.
"We both say that if Russia is serious about participating in achieving the standards for stabilisation in Syria, then it cannot happen if, as a result of military offensives, thousands more people are forced to flee."
While Russia says its air campaign is aimed at defeating ISIL militants, analysis shows that 80 percent of its declared targets have been in areas not held by the group.
Saudi Arabia has added its criticism, saying Moscow's actions are fueling Syria's war.
"We believe that the Russian interference in Syria is very dangerous because it exacerbates the conflict," Foreign Minister Adel al-Jubeir told reporters in Vienna, ahead of a meeting with his US, Russian and Turkish counterparts.
When asked whether Assad could play a role in any Syrian interim government, Jubeir said: "His role would be to leave Syria."
The Kremlin has cast its intervention in Syria, its biggest in the Middle East since the 1991 Soviet collapse, as a common sense move designed to roll back "international terrorism" in the face of what it says is ineffective action from Washington.