Violence spirals in Israel and the West Bank
Comments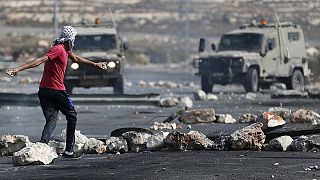 Palestinian protesters clash with Israeli soldiers in the West Bank city of Ramallah.
Stones were thrown at two Israeli army vehicles at the scene.
Rubber bullets and tear gas were fired in response.
At least one Palestinian was taken to hospital to be treated for his injuries.
In Beit Awwa, an Israeli soldier was lightly wounded in a knife attack.
His alleged assailant, a 24-year-old Palestinian, was shot dead.
Gaza Strip
A 27-year-old Palestinian was killed by Israeli fire on the border with the Gaza Strip.
Eyewitnesses say a crowd of young people began throwing stones.
The Israeli Army says it was targeting a terrorist cell.
43 Palestinians have died in this latest wave of violence. 8 Israelis have also been killed, along with one Eritrean.
Hebron
An Israeli man in his 50s was killed in a road accident south-west of Hebron, believed to be linked to stone-throwing.
Initial reports suggest the driver was run over by another vehicle after exiting his own car.
Hamas arrest
Israel, meanwhile, has arrested a top Hamas official near Ramallah in the West Bank.
Officials have accused Hassan Yousef of inciting some of the recent violence.
Hamas has condemned the arrest, the most high-profile since this latest wave of unrest began a month ago.