Ban Ki-moon urges Netanyahu and Abbas to step back from 'dangerous abyss'
Comments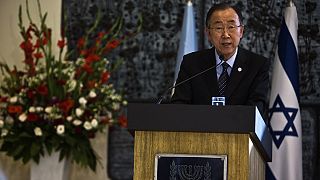 An international diplomatic effort spearheaded by the UN's Secretary General Ban Ki-moon is under way to try and end three weeks of violence between Palestinians and Israel.
During a surprise visit to Jerusalem the UN chief urged both sides to step back from a "dangerous abyss".
"We need to keep the situation from escalating into a religious conflict with potential regional implications. We must create the conditions for meaningful negotiations that will end the occupation and realize the aspirations of both peoples," he said.
Israel's premier has accused the Palestinian leadership of inciting the violence, but the UN chief called for a measured response.
"Security measures can be counterproductive if they are applied without special effort to defuse situations before people lose their lives. If the use of force is not properly calibrated it may breed the very frustrations and anxieties from which violence tends to erupt."
After talks with Israeli Premier Benjamin Netanyahu, Ban Ki-moon will meet Palestinian President Mahmoud Abbas in the West bank. US Secretary of State John Kerry is also making a special visit to the region later this week.