Justin Trudeau elected Canada's prime minister
Comments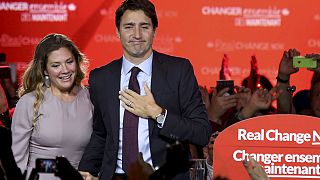 Justin Trudeau has been elected Canadian prime minister. The 43-year-old is the second-youngest premier in the country's history and the son of former prime minister Pierre Trudeau.
He leaped from third place to lead the polls just before the vote. He'll now return to the prime minister's residence where he grew up.
"Canadians from all across this great country sent a clear message tonight, it's time for a change in this country, my friends, a real change," Trudeau said in his victory speech.
Stephen Harper conceded defeat, ending his conservative government's decade-long stint in power.
Voters seemed to tire of the 56-year-old's brand of fiscal and cultural conservatism.
Justin Trudeau's campaign promises include tackling climate change and pulling Canada out of the combat mission against the so-called Islamic State (ISIL), prefering to focus on humanitarian aid and training.
Analysts say his victory will bring a touch of glamour, youth and charisma to the PM's office.
Proud Canadian today with [finally] a new prime minister, Congrats JustinTrudeau</a>: "We beat fear with hope." <a href="https://twitter.com/hashtag/Quote?src=hash">#Quote</a> <a href="https://twitter.com/hashtag/Elxn42?src=hash">#Elxn42</a> <a href="https://twitter.com/hashtag/CdnPoli?src=hash">#CdnPoli</a></p>&mdash; Chaker Khazaal (ChakerKhazaal) October 20, 2015
header
Ready. #elxn42pic.twitter.com/UaH4MLArNH

— Justin Trudeau (@JustinTrudeau) October 20, 2015