Chaos in the Balkans as plans to control flow of migrants break down
Comments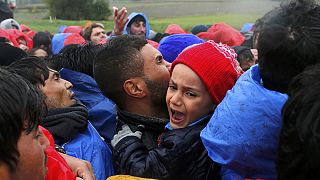 Various Balkan countries are struggling with a backlog of migrants after Hungary sealed its southern border on Friday while Slovenia is trying to impose a limit – the result – thousands of people stranded on the cold and wet
As many of them crossed from Croatia to Slovenia, tempers flared.and police apparently used pepper spray to control the crowds.
"There is a mass of people trying to take a bus. They do not want to sleep here. There is no tent to sleep. So there is a mass. This soldier (Slovenian police officer) pushed pepper in our eyes… everyones."
Refugees suffer in mud and rain as European countries bicker https://t.co/sEUJxLWn3gpic.twitter.com/e3AAyLkjOI

— Telegraph News (@TelegraphNews) October 19, 2015
Attempts by Slovenia to ration the flow since Hungary sealed its border with Croatia on Friday have triggered a knock-on effect through the Balkans; Croatia began holding back new arrivals and Serbia said it might do the same on it border with Macedonia.
However Croatia suddenly opened its border with Serbia and thousands of stranded migrants poured in. They headed for Slovenia transported by the Croatian authorities. Slovenia is now complaining that Croatia " is ignoring our pleas and plans" and says that it can only cope with 2,500 migrants per day and not the 5000 that arrived on Monday.