Montenegro: protests continue despite violence
Comments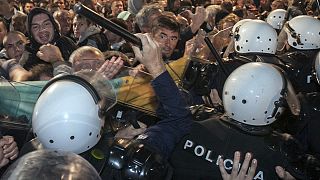 Several thousand people continued their protests in the capital of Montenegro on Sunday evening, calling on the government of Prime Minister Milo Djukanovic to resign.
#Montenegro, #Podgorica a ferro e a fuoco
http://t.co/elwAKbk9sx
#ProtestiCG#protestepic.twitter.com/uqQHjKKxKJ

— Sputnik Italia (@sputnik_italia) October 19, 2015
Security was tightened after protests in Podgorica on Saturday descended into violence. Stones were thrown and police responded with tear gas.
The government has been accused of corruption, undemocratic practices and election fraud.