Detained Angolan rapper blames president for his hunger strike
Comments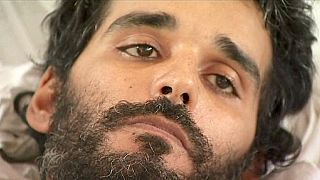 The Angolan rapper and activist Luaty Beirao who has been on hunger strike since September 21 in protest at his arrest is said to be deteriorating and has been moved to a private clinic.
Beirao – who is an outspoken critic of the government – and 14 others were detained in June for allegedly plotting to oust President Jose Eduardo dos Santos.
Also read-Red faces in Moscow after France blamed for Swiss fighter jet incident
Their arrests triggered international protests.
Beirao has written an open letter blaming the president for his 'drastic decision' to stage a hunger strike.
Beirao and his 14 colleagues have been held for more than the 90 day legal limit allowed without trial.
According to his wife the other 14 activists have been moved to the prison hospital without explanation.
If they are convicted they face up to 12 years in jail if convicted.
Last week in Lisbon and London there were protests calling for the release of all jailed political prisoners in Angola.
The detained activists have previously held demonstrations calling for President dos Santos to quit.
He's been in power for 36 years.