Israel bans Arab workers from schools in several cities and further tightens security
Comments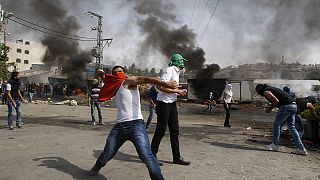 The atmosphere of crisis is gaining ground in Israel, with at least four cities including Tel Aviv temporarily banning Arab labourers from working in their schools.
The cabinet also announced a raft of new security measures at its regular Sunday meeting, including more roadblocks and sweeping stop and search powers, and the prime minister insisted Palestinian anger over supposed changes to al-Aqsa mosque was misplaced.
"We didn't change anything. The orders of prayer, the visiting rights have not changed for the last fifteen years. The only thing that changed are Islamist hoodlums paid by the Islamist movement in Israel and by Hamas who are entering the mosque and trying to put explosives there," said Benjamin Netanyahu.
In total at least 41 Palestinians and seven Israelis have died in the recent street violence which shows no sign of abating and is now raising concerns abroad. President Obama called for calm on Saturday, and Secretary of State John Kerry is meeting Netanyahu this week in Germany, and he will also meet the Palestinian president.
On Sunday in Rome Pope Francis added his voice to the appeals for calm, calling on people to have "courage and much fortitude to say no to hatred and vendettas, and to make gestures of peace."