Iran says political and military solution needed to end Syria war
Comments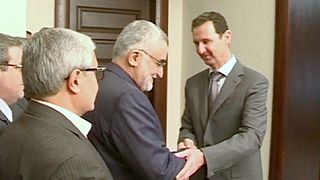 Iran says there has to be both a political and military solution to the crisis in Syria.
A delegation of lawmakers from the Islamic Republic has been meeting President Bashar al-Assad in Damascus.
One official said US led efforts to fight rebels had failed and while a political conclusion was the ultimate aim, a military victory was necessary first.
"The Russians too are backing a political solution to end the crisis in Syria," said Alaeddin Boroujerdi, head of the Iranian Parliament National Security and Foreign Policy Committee.
"But at the same time, because terrorists do not understand anything but force, naturally that same language has to be spoken to them."
The visit comes as Iranian troops prepare to bolster a Syrian army offensive that, according to two senior officials, will target rebels in Aleppo.
Meanwhile, Syrian troops and their allies – backed by Russian jets – have attacked rebel-held towns north of the city of Homs. It is a long-held and strategic enclave of opposition to Assad.