Russia, Iran are part of solution in Syria: EU foreign policy chief
Comments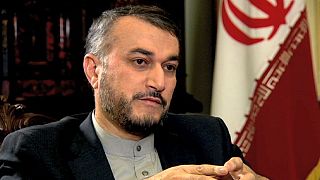 Amid reports of a combined Syrian-Russian-Iranian ground offensive in Syria, the West must talk to Tehran to broker an end to the conflict, a senior EU official said on Wednesday.
Speaking to reporters, EU foreign policy chief Federica Mogherini said both Russia and Iran need to be at the negotiating table.
"If we want the political situation to move inside Syria, and the political process to start immediately, we need to involve the actors that have an influence, a direct influence on the regime. And that is why both Russia and Iran are crucial," the former Italian foreign minister said.
Mogherini had held high-level talks with Iranian Deputy Foreign Minister Hossein Amir-Abdollahian on Tuesday; the pair focused on how to bring peace to Syria and combat Islamic State jihadi fighters there.
Euronews's Fariba Mavaddat spoke to Amir-Abdollahian in an interview in Brussels filmed late on Tuesday.
euronews, Fariba Mavaddat: "Do you have boots on the ground?'"
Iranian Deputy Foreign Minister Hossein Amir-Abdollahian: "We haven't sent a force of fighters to Syria. At the request of the Syrian government, we sent a number of military consultants with experience of fighting terrorism."
euronews: "and arms?"
Amir-Abdollahian: What follows in syria, whatever we do in that respect, is to weaken terrorist groups.'
euronews: "In their meetings on Monday, EU foreign ministers decided that there should be no future for president Assad in Syria. How did you or where did you place president Assad in your negotiations with Mrs Mogherini?'
Amir-Abdollahian: "We discussed very important points with Mrs Mogherini, including the urgency of fighting terrorism, but i should say that the decision of Assad remaining or going should be made by the people of Syria. If rebel groups wish to take part in the political future of Syria, first they have to make clear the position vis à vis other terrorist groups. And then they have to join the political process in the country."
euronews: "How do you describe your cooperation with Russia, now – and how do you see the relationship with Russia in the future with regard to Syria?"
Amir-Abdollahian: Russia doesn't intend to just target groups fighting Assad nor do we support this idea. We support Mr. Putin's decision to weaken terrorists in Syria.'
euronews: "How?"
Amir-Abdollahian: "Our military consultants help the Syrian army and authorities and also the russian authorities in the event of a request from them."