Jamaican writer Marlon James wins Booker Man literary prize
Comments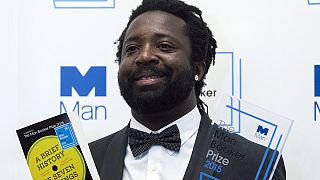 Marlon James has become the first ever Jamaican to win Britain's highest literary honour the Man Booker fiction prize for "A Brief History of Seven Killings".
The 686-page novel which uses Jamaican patois tells the story of a drug fuelled gang of ghetto kids who try but fail to kill reggae star Bob Marley in 1976.
James's book has already won high critical acclaim, with the New York Times saying it was "like a (Quentin) Tarantino remake of 'The Harder They Come', but with a soundtrack by Bob Marley and a script by Oliver Stone and William Faulkner".
The coveted prize has previously gone to Salman Rushdie, Hilary Mantel, Margaret Atwood and J.M. Coetzee and it carries a top cash award of 50,000 pounds (67,000 euros), but more importantly can be measured by a huge rise in book sales.