Iran boycotts Frankfurt Book Fair over Salman Rushdie appearance
Comments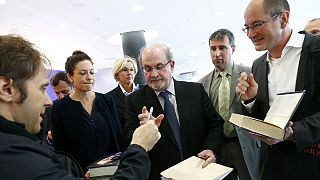 Iran is boycotting this year's Frankfurt Book Fair because of an appearance by British Indian author Salman Rushdie.
He was the subject of an Iranian death threat in 1989 for his book "The Satanic Verses," which was deemed blasphemous by many Muslims.
So while publishing houses were busy stocking shelves ahead of the fair opening, Iran's stand stood empty.
Fair director Juergen Boos said that he "was not happy with this boycott."
"It means that we miss another opportunity to exchange views with the Iranian colleagues. But I am confident that our ideas can't be killed," he said.
Rushdie went into hiding for years after the 1989 fatwa. He has returned to making public appearances in recent times and is in Germany to promote a new book. "Two Years, Eight Months and Twenty-Eight Nights" – equal to the 1,001 nights of the famous Arabic tale – is a novel described as weaving together history, mythology and love.
The author has said in Frankfurt that limiting freedom of expression is not just censorship but "an assault on human nature."
The Frankfurt Book Fair officially opens today (14 October) and last year attracted almost 270,000 visitors from 132 countries, according to organisers.
This year's "guest of honour" is Indonesia.