Dutch down and out of Euro 2016
Comments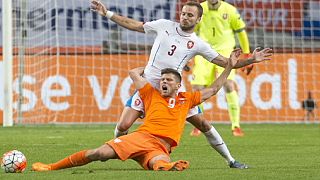 The Netherlands highlighted, in bright orange, their rapid fall grace on Tuesday night as they failed to qualify for next year's European Championships in France.
After finishing third at the 2014 World Cup, the side's disastrous Euro 2016 qualification campaign crashed and burned with a 3-2 defeat to the Czech Republic on the final night of action.
The news made most of the front pages of the national newspapers as the habitual European footballing powerhouse failed to qualify for the event for the first time since 1984, while it's the first major tournament missed by the Netherlands since the 2002 World Cup.
One passerby in Amsterdam said of his team: "They have lost because I think they thought too lightly about it, they thought it would be easy and they would go further, but first you have to play football and then you can win, and that's all there is."
Four year's after failing to qualify for Euro 84 the Dutch went on to lift the title.
Rebuilding the squad in an attempt to repeat that feat is now a necessity for some supporters.
This man says: "I think that we simply have to build the team from scratch, just like Germany did a few years ago, and after that they can profit and pick up the fruits again, so let's build it up and by the next Euro we will be the strong competitors again."
The Dutch ended their disastrous campaign in fourth behind Group winners the Czech Republic, runners-up Iceland and Turkey who are celebrating an automatic spot in the finals for finishing as the highest ranked third place team.