Clashes in West Bank on "Day of Rage"
Comments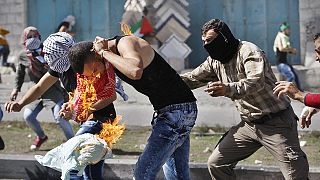 In the West Bank clashes erupted after the string of attacks in Jerusalem. In Hebron Israeli security forces responded with rubber bullets to break up crowds of youths hurling stones.
It was was yet more evidence of the violence which has spiraled since mid September amidst speculation that Palestinians could be embarking on another uprising or intifada.
There was a demand for political action too.
"We hold the Israeli government entirely responsible for the war crimes against our people and for this wave of violence and bloodshed.
'Our decision today, is according to the instructions of the President Mahmoud Abbas, to go and appeal to the International Criminal Court to hold the Israeli prime minister, his defence minister and the leaders of his security forces responsible for what is happening," Palestinian senior negotiator, Saeb Erekat told reporters at a press conference.
The clashes spread to other areas in the West Bank. Near Ramallah and in the city of Bethlehem, young people wearing masks and waving Palestinian flags burnt tyres and hurled stones at Israeli forces.