Turkish government close to identifying bombing suspect
Comments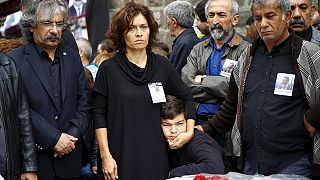 They are burying their dead in Istanbul. It is a shared grief mixed with anger after two suicide bombers killed 97 people in the capital Ankara.
The Turkish Prime Minister Ahmet Davutoglu said they are close to identifying one of the suspects who had links to a terrorist organisation.
No group has claimed responsibility for the attack but Turkish media report the prime suspect is the militant group ISIL.
Many mourners pointed the finger at the government. "Killer Erdogan" was one of the chants to fill the air.
Outside one of the city hospitals relatives and friends wait to hear news of the injured.
"Eight of our friends have been wounded. Two of them badly injured and they are intensive care. Their situation continues to be critical. When the attackers struck I was five or ten metres away from my friend. It was all so horrific, I can't explain it exactly," one eyewitness told reporters.
The bombs ripped through a crowd of activists who had gathered outside the main railway station about to take part in a rally. They were calling for an end to violence between Turkish government forces and the militant Kurdistan Workers' Party the PKK.
It was the biggest attack in the history of the Turkish republic.
One media source claims police officials believe the bombs bore all the hallmarks of a suicide attack in the southeastern town of Suruc in July in which 28 people died. ISIL have been blamed for that attack.