Putin adds diplomatic strand to bolster Syrian air strikes
Comments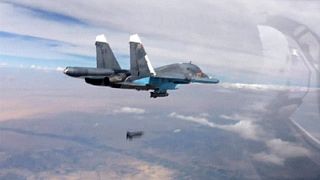 Russian President Vladimir Putin has gone on the diplomatic offensive as Moscow's jets continue to pound anti-government positions in Syria.
Putin held meetings with the Saudi defence minister as the Kremlin seeks a political solution to the violence in Syria.
Putin Meets Saudi Prince on 'Political Solution' in Syria – http://t.co/AR9j9aikwwpic.twitter.com/xUd8FJlQeN

— Newsnish (@newsnish) 12 Octobre 2015
The Western-backed opposition group echoed again over the weekend that Russian air raids would undermine efforts to reach a settlement.
Putin disagrees, speaking on Russian state television he said: "The active phase of our job in Syria will be limited to coincide with the offensive operations by the Syrian army. Our task is to stabilise the legal government and create the right conditions for reaching a political compromise."
He added that Russian troops would not be deployed in Syria:"No we are not going to do that and our Syrian friends know it."
Russian airstrikes helps army in Syria advance as Putin reaches out to Saudi http://t.co/VpImYUgRelpic.twitter.com/8KLwYhzRsK

— Firstpost (@firstpost) 12 Octobre 2015
On the ground Syrian army units backed by Russian air power regained territory around the town of Atshan in Hama province.
Syrian Army Shocks the Islamist Rebels in Northern #Hama: 'Atshan … http://t.co/kGLYEq5OhS#Russia#Syriapic.twitter.com/JleYtUGkDp

— Al-Masdar News (@TheArabSource) 10 Octobre 2015