Russia tries to reassure Saudi Arabia over Syria air strikes
Comments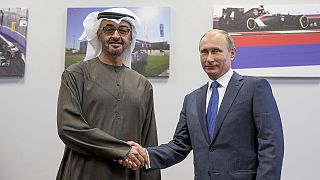 Russian President Vladimir Putin has launched a diplomatic offensive trying to reassure Saudi Arabia that his intervention in Syria is aimed at defeating terrorism.
During a meeting in Sochi on the sidelines of a Formula 1 Grand Prix race the Russian leader and Foreign Minister Sergei Lavrov tried to find common ground with the enemies of Syria's President Assad.
"In the first place (this operation) is aimed at preventing the formation of a terrorist caliphate. In this connection President (Putin) has clearly confirmed that our (Russian) military in Syria are fighting explicitly the so called Islamic State…" said Lavrov after meeting with Saudi Arabia's Defense Minister Sheikh Mohammed bin Salman.
Saudi Arabia is at odds with Russia in wanting Syria's President Assad to be removed from power while Moscow says his government should be the centre piece of international efforts to fight extremism.
Riyadh is also concerned that Russian air strikes are not just targeting ISIL fighters but have also been causing casualties among rebels fighting the Assad regime.
The Russian bombing has been accompanied by a major advance by Syrian government forces, backed by thousands of Lebanese Hezbollah militiamen and hundreds of Iranian troops.
In recent days Russia has dramatically intensified its 10-day-old bombing campaign claiming on Sunday its war planes had made around 60 sorties over Syria. As in the past, it described all targets as belonging to ISIL, although most of the areas it said it had struck are not held by the militants.