Spiralling violence in Middle East leads to further casualties
Comments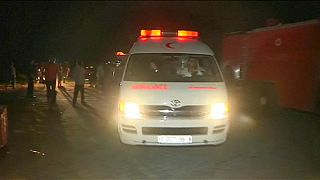 A young Palestinian girl and her pregnant mother are believed to be the latest victims of the spiralling violence in the Middle East.
Eyewitnesses say Israeli air strikes on two Hamas camps in Gaza brought down a house while they were inside with a man and a young boy. The latter were both injured, hospital officials report.
Israel said two Hamas weapons sites were targeted in response to two rockets being launched into Israel earlier in the weekend. No casualties were reported.
In Jerusalem on the same day (October 11), a Palestinian woman reportedly detonated a bomb after her car was pulled over near a Jewish settlement. Both she and an Israeli police officer are believed to have been wounded.
12 days of bloodshed
At least four Israelis and 22 Palestinians have been killed in 12 days of violence across the West Bank, Jerusalem, Gaza and Israeli cities.
Palestinians fear Israel may change conditions at the al-Aqsa mosque compound in Jerusalem's Old City, a site of great importance to both Muslims and Jews.
Israel denies any intention to change the status quo.