Syrian army claims major anti-IS campaign has begun
Comments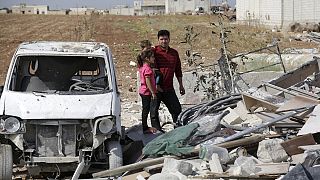 Russian-made helicopters bombed more targets in Syria on Thursday, while the Syrian regular army said it had begun a major offensive against the so-called Islamic State.
Since Russia began supporting the army with air power and missile strikes there has been much criticism from some quarters that most of the fighting was against opponents of the Assad regime, and not the Islamic extremists.
Iran has denied unconfirmed reports that four of the 26 cruise missiles fired yesterday from the Caspian sea crashed in northern Iran.
"Syrian Armed Forces have begun a large-scale attack on terrorist groups in order to liberate the regions plagued by terrorism," said the Chief of General Staff of the Syrian Arab Army Ali Abdullah Ayyoub.
It has also been reported that Saudi Arabia and the Gulf states supporting anti-Assad rebels are reinforcing their units in their face-off with the Syrians and their Iranian and Russian allies. However continued success for Assad's newly-invigorated forces may close vital supply corridors.