NATO must respond to a more assertive Russia - Stoltenberg
Comments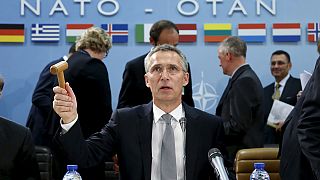 Meeting in Brussels, NATO defence ministers have given renewed assurances that they will protect the interests of their 28 members.
They have decided to boost joint response forces to be deployed rapidly where needed.
#NATO Defence Ministers take further steps to enhance collective defence http://t.co/cY7feqKwFt#DefMinpic.twitter.com/10KNOfJ7KC

—

NATO

(@NATO) 8 Octobre 2015
Secretary General Jens Stoltenberg urged Russia to end its support for the Assad government:
"Russia's military escalation in Syria raises serious concerns. I call on Russia to play a constructive role in the fight against ISIL but Russian actions and support for the Assad regime are not helpful."
NATO member Turkey has complained that Russian warplanes violated its airspace twice recently as part of military involvement in the Syrian conflict.
"The recent violations of Turkish airspace are unacceptable. NATO is ready to defend and protect all allies against any threat and that, of course, also goes for or is valid for Turkey," said Mr Stoltenberg.
#Lithuania, #Canada, #Poland, #UK & #USA agree to better coordinate assistance to #Ukraine. At NATO</a> <a href="https://twitter.com/hashtag/DefMin?src=hash">#DefMin</a> meeting <a href="http://t.co/VgcSX2sdmu">pic.twitter.com/VgcSX2sdmu</a></p>&mdash; Lithuania in NATO (LitdelNATO) October 8, 2015
The UK has agreed to station around 100 troops in Estonia, Latvia and Lithuania and deploy 25 to Ukraine.
Commentators say there has been heavy condemnation of Russia from NATO, but so far the organisation is light on practical solutions to what has been described as a "deepening crisis".