Islamic Sate fighters seize villages close to Aleppo - reports
Comments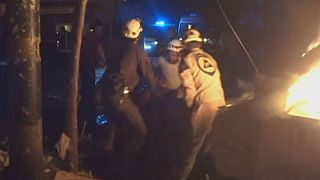 It's reported 20 people were killed in a car bomb in town close to Aleppo in northern Syria. No group has claimed responsibility.
It comes amidst allegations from the British-based Syrian Observatory for Human Rights that the so-called Islamic State fighters have seized villages close to Aleppo from rival insurgents.
The monitoring group says it was the biggest advance by ISIL since it launched an offensive against rival rebels in August. The militant group allege it captured five villages and killed more than 10 Syrian soldiers.
The fighting has taken Islamic State to within 2 kilometres of government-held territory on the northern edged of Aleppo.There has been no significant advances by government forces where ground offensives were launched this week, said the Observatory.
One casualty of the fighting has been a senior commander of Iran's Revolutionary Guards, General Hossein Hamedani.
A statement from Iran said he was killed during an advisory mission near Aleppo. The announcement comes amidst claims hundreds of Iranian troops have arrived in Syria to support the Syrian army.