Fifa suspends Blatter, Platini and Valcke
Comments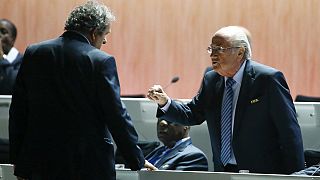 Fifa president Sepp Blatter, secretary general Jerome Valcke and vice-president and Uefa chief Michel Platini have all been suspended for 90 days by Fifa's ethics committee.
FIFA suspends Sepp Blatter and other top officials for 90 days http://t.co/dUXDLOHLz5pic.twitter.com/q0gBqOv8cz

— The New York Times (@nytimes) October 8, 2015
The body moved after Swiss authorities opened a criminal inquiry into Blatter two weeks ago.
Blatter's legal team issued a statement saying ''President Blatter looks forward to the opportunity to present evidence that will demonstrate that he did not engage in any misconduct.''
The ethics committee is also probing Platini over a €2m payment he received from Blatter nine years ago for consultation work.
Valcke is already under investigation for an alleged World Cup ticket scam.

BREAKING: FIFA suspend Blatter, Platini and Valcke. More on #SSNHQpic.twitter.com/QqlQE9Bmqv

— Sky Sports News HQ (@SkySportsNewsHQ) October 8, 2015
The red cards continue with former
Fifa vice-president Chung Mong-joon recieving a six-year ban.
The Korean is furious he said '"what are these "corruption" charges that I face? Unlike Blatter, Valcke and Platini, I am not facing any allegations of bribery, fraud, corruption, or conflict of interest.''
Blatter, Platini and Valcke BANNED as football finally starts clean-up of FIFA http://t.co/m2xexoVp8jpic.twitter.com/ueybniEHkD

— MailOnline Sport (@MailSport) October 8, 2015
Chung Mong-joon considers himself a scapegoat for daring to undermine the president.
Issa Hayatou who heads the African football confederation is to act as president of Fifa while Blatter is under investigation.
After @SeppBlatter suspension, is Issa Hayatou now technically #Fifa's 1st African president? http://t.co/pS5XcEiVUapic.twitter.com/V4w5ubEJdb

— BBC Africa (@BBCAfrica) October 8, 2015
Both Platini and Chung Mong-joon have ambitions to become the next Fifa president.
Ángel María Villar queda al frente de la UEFA tras ser suspendido también Michel Platini: http://t.co/yEwEaXU4tepic.twitter.com/BldQiA8QlG

— Manda Pelotas (@mandapelotas) October 8, 2015
Spain's Angel Maria Villar will take charge of Uefa while Platini is suspended.