FIFA reform task force meet for first time
Comments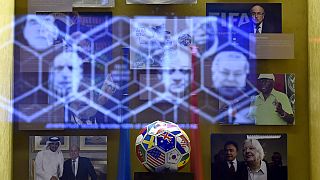 Football's scandal-hit world governing body FIFA convened the first meeting of a new reform committee on Wednesday in Berne.
UEFA General Secretary Gianni Infantino is one of the twelve-person committee, that is chaired by Swiss lawyer Francois Carrard and charged with drawing up far-reaching reforms in the wake of a major corruption scandal.
Four days after being re-elected for a fifth term in May, embattled FIFA president Sepp Blatter announced he would stand down following the arrest of several top ranking Fifa officials on corruption charges.
Joining the ranks of Al Capone
The worst corruption crisis in FIFA's 111-year history has prompted the Mob Museum in Las Vegas to add the governing body to its array of organised crime exhibits.
The museum showcases some of the most brutal and exploitative criminal activity in U.S. history.
The FIFA display consists of photographs and various news articles.
The museum's latest exhibit is quite aptly named "The 'Beautiful Game' Turns Ugly".