Clashes in West Bank city of Nablus
Comments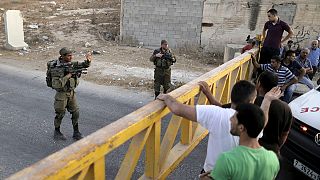 Euronews correspondent Mohammed Shaikibrahim reports from Nablus in the West Bank where Israeli security forces entered overnight. It comes after Israel announced that five men from the city had confessed to fatally shooting an Israeli couple last week.
Palestinian men clashed with the troops throwing stones and setting fire to tyres.
"We don't feel secure moving within the West bank from one city to another," says one Palestinian man. "They attack us, destroy our cars. They are occupying our lands, and we are here to defend our country."
Another Palestinian interview by euronews correspondent Shaikibrahim said:
"Our message to the Israelis is that we still exist in this land, and we will stay here, fighting them even with just one stone, as Arafat taught us, we were born in this land to resist."
At least five were wounded, according to health authorities quoted by a Turkish news agency. Our correspondent managed to follow them to one of the hospitals.
"We have witnessed the clashes which erupted after the Israeli forces stormed several areas in Nablus," remarks euronews correspondent Shaikibhrahim, "and it appears that their intention is to destroy the houses of the five Palestinians who carried out the attack on the Israeli couple."