Air France violence a 'national embarrassment'
Comments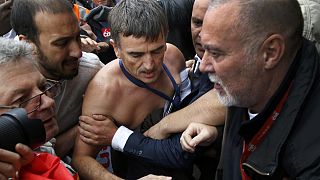 France's political leaders say violence by workers of the country's flag carrier Air France is a national embarrassment that reinforces the very image the country wants to shake off.
Monday's protests at Charles de Gaulle airport were against a cost-cutting plan and swingeing job cuts aimed at making Air France more competitive.
Pictures of management with their shirts ripped and torn off have featured on the front pages of newspapers across Europe.
Air France shirt-ripping drama 'bad for France', warns Francois Hollande http://t.co/tmxRHJj9vPpic.twitter.com/HNKnsLG6fY

— The Telegraph (@Telegraph) 6 Octobre 2015
President Francois Hollande fears it will tarnish France's image abroad:"Social dialogue is important. When it is interrupted by violence and contested in an unacceptable manner, we will see the effect it has on France's image and attractiveness."
[#LT#AirFrance] manuelvalls</a>:"Social dialogue is essential & is still possible. Violence is unacceptable" <a href="http://t.co/UDWemTa0Cc">pic.twitter.com/UDWemTa0Cc</a></p>&mdash; Air France Newsroom (AFnewsroom) 6 Octobre 2015
Meeting Air France executives on Tuesday, Prime Minister Manuel Valls says the company must not be held to ransom by a minority: "Nothing can justify such acts. These are the acts of thugs and those who perpetrate such acts should be severely punished."
The Prime Minister says the government supports the Air France management in its effort to turn the company around.
He called for negotiations to continue between the airline and its staff.
Ministers, however, have rejected calls for the company to be re-nationalised.
The government currently owns 17% of Air France which limits the role it can play in dialogue.