Air France violence puts spotlight on airline's performance
Comments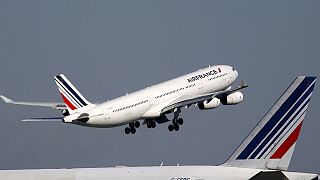 The health and performance of Air France have come under particular scrutiny following Monday's violent protest.
This year the airline has reported more poor results.
Much of the controversy concerns its restructuring plan known as 'Perform' – coming hot on the heels of the previous, also controversial 'Transform' programme.
Part of the plan involves scaling back its long-haul capacity as it tries to focus on competing with low-cost rivals.
Air France's medium haul low cost airline Transavia has continued to develop in France but is weak compared to its leading competitors in Europe.
Passenger numbers overall have lagged behind those of other airlines – and now the company is trying to force through a restructuring plan against strong opposition.
"Unfortunately their industrial relations are mired in the 19th century and not the 21st century. Someone has to give here. Management are looking to impose a solution, essentially, I think, because they don't see any other way," said analyst Michael Hewson of CMC Markets.
The French government – which holds a 17 percent stake in Air France – has ruled out nationalisation.
On top of bad results and stiff competition, Monday's violence was a public relations disaster for the airline and for France – at a time the government is on a drive to attract outside investment.