NATO warns Russia over air strikes
Comments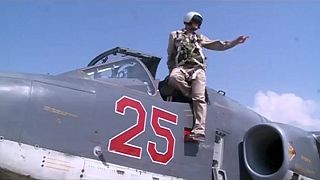 The Russian air strikes over Syria have sparked controversy beyond the conflict zone and led to a warning from NATO. It comes after Russian fighter jets twice violated Turkish airspace. Moscow has responded by saying the action was a "mistake".
Russian planes flew 15 sorties over Syria on Monday (October 5) attacking ISIL targets in Homs province.
Ankara summoned the Russian ambassador to protest against the violation with a warning if it was repeated.
"Turkey's rules of engagement apply to all planes, be they Syrian, Russian or from elsewhere. Necessary steps would be taken against whoever violates Turkey's borders, even if it's a bird," Turkish Prime Minister Ahmet Davutoglu said when he was interviewed on Turkish television.
NATO and the US denounced the actions with one official under the cloak of anonymity saying Washington doubted the incursions were an accident.
"Russia's actions are not contributing to the security and stability of the region. I call on Russia to fully respect NATO airspace and to avoid escalating tensions with the alliance. I urge Russia to take the necessary steps to align its efforts with those of the international community in the fight against ISIL," Jens Stoltenberg NATO Secretary General told reporters in a press conference.
Moscow says it is targeting the militant group ISIL and other Islamic positions. More than 40 Syrian insurgent groups have called on regional states to forge an alliance against Russia and Iran.